International Convention Centre (ICC) Durban
The International Convention Centre (ICC) Durban is one of the most advanced conference facilities in the world. The facility boasts the largest area of column free, flat floor, multi-purpose space in Africa coupled with state of the art technology. As well as being named Africa's Leading Conference Centre for the 10th year by the World Travel Awards, the ICC Durban has been voted amongst the top 20 conference centres in the world by the AIPC.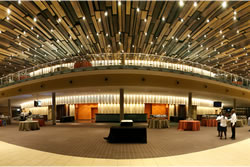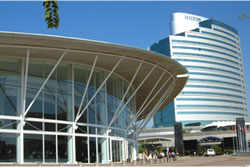 The ICC Durban is purpose-built, fully air-conditioned and comprises six convention halls that are interlinked, but separate. Halls 1-3 are classic convention and meetings spaces whilst halls 4-6 double as convention and meetings spaces and the flat floor space for the ICC Arena makes it the leading indoor sports and entertainment venue in Durban which accommodates up to 10 000 spectators.
The ICC Arena has full technical capacity for live broadcasts as well as house lighting suitable for TV production filming. The Centre is fully Wi-Fi enabled and there are two on-site generators which can fully power the centre in the event of power disruptions.
Operable walls allow for venue flexibility, catering for plenary seating of up to 12 300 delegates and raked seating for 3 880 delegates. The 6 halls can be opened up to form one large venue of 9 250m² flat floor column-free space and there are three outdoor courtyard venues of over 1 000m². In addition, the facility boasts up to 25 meeting rooms ranging from 43m² to 396m².
Within the ICC Durban there is a Business Complex which includes banking and foreign exchange facilities, medical services, stationery and postal services.
The ICC Durban is disabled-friendly, with international standard wheel-chair access, designated drop-off points and parking bays, toilets for the physically disabled, and a Braille route through the centre and elevators.
For more information, please visit www.icc.co.za.